pH influences digestibility, flavour, and stability in food and beverages.
The pH value is an important parameter for the quality control of beverages.
pH has a significant effect on the digestibility, flavour, and stability of any beverage. The pH value influences color/hue, flavour, redox potential, the ratio between free and bound SO2 in wine, the formation or prevention of iron phosphate turbidity, to name just a few. Moreover, it controls enzyme activity during alcoholic fermentation, which is why it must be checked regularly.
The requirements for the pH electrode used to perform measurements are as diverse as the range of beverages to be analyzed. The selection of a diaphragm suitable for the beverage sample is particularly important, since the sample can quickly block the electrolyte bridge if an unsuitable diaphragm is used, leading to inaccurate results.
The Unitrode is the ideal electrode for beverages in general, e.g., for wine (AOAC 960.19), beer (AOAC 945.10), and spirits. The fixed ground-joint diaphragm prevents contamination.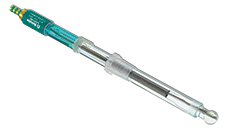 The Aquatrode Plus is the perfect electrode for drinking water analysis. It yields precise results and offers rapid response times even in poorly buffered solutions. Thanks to the fixed ground-joint diaphragm, this electrode is insensitive to contamination.